CALGreen and LEED v3 recognize a 500-mile radius. All Angelus produced items are manufactured and sourced well within 500 miles of our market area.
LEED v4 eliminated Regional Materials, incorporating it as a contribution multiplier in the BPDO credits. However, the radius has been reduced to 100 miles, and more significantly, current wording and interpretation does not allow for any partial accounting – 100% of raw material sourcing and production must occur within 100 miles of the project.
This effectively eliminates many products, including most structural CMU, that include small portions of aggregates that can only be sourced beyond the limit distance. Angelus Pavers, however, will likely meet the requirements for most areas within the Southern California metro region.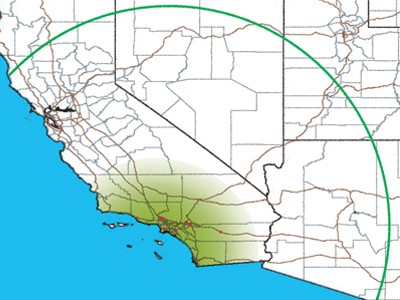 For projects registered under LEED v3, where these products constitute large portions of the project, such as concrete masonry buildings, the Regional Materials credits may be exceeded by a significant factor, thus an opportunity for an Exemplary Performance credit.
And, for just simple practicality, the number and location of Angelus plants is likely to offer beneficial and convenient proximity to any given jobsite.