SketchUp Materials
SKM files of Angelus Block CMU
Within the Dropbox link Angelus provides an extensive collection of SKM files for each of our marketed colors for structural cmu:
31 colors
Standard faces in 4-inch high, 6-inch, high, and 8-inch high unit/course heights, in running bond and stack bond
Face feature cmu, 8-inch high, with running bond, and where appropriate, stack bond:

Projection & Shadow (cmu with unique face projections, angles, and geometry). SKM available for those units that can be alternated or flipped from unit-to-unit or course-to-course for dramatic visual effects
Deep Scores & Flutes (cmu with vertical projections to create continuous relief and shadow lines)
Graphic Scores (cmu with vertical insets that mimic struck joints)

A palette of more than 3,500 files to get and keep you going!
Each with associated mortar colors
Please note the colors and face features in the Angelus Block set of SketchUp materials are specific to our market region of Southern California.
Thank you for your interest in SketchUp materials from Angelus Block!
You will receive an email shortly with a Dropbox link to the SketchUp SKM files.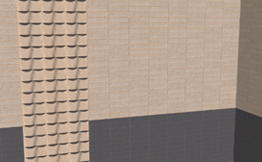 Access folders and files