Sites to be rehabilitated can be subject to severe settlement issues. Interlocking concrete pavements (ICP) are excellent at maintaining usability when underlying soils settle, move, or expand. Repairs can be made with original stones reinstalled, reducing cost and material consumption.
PICP can be designed to capture runoff and prevent exfiltration direct to underlining soils, thereby lessening potential water-borne migration of site contaminants. Its detaining and filtering of runoff can mitigate stress on existing storm drain infrastructure.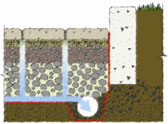 Proto IITM Post Tensioned Masonry has designs for expansive soils, suitable for rehabilitated sites where post-development settlement is anticipated.