PMP Fine Grout with Grout Additive is a preblended grout for filling masonry cavities, door frames, and concrete patching and grouting. It is a blend of washed sand, Type II cement 2 1/2:1 and PMP Grout Additive.
PMP Fine Grout with Grout Additive is formulated to achieve a minimum of 2500 p.s.i. compressive strength when placed at an 8-10 inch slump. The Grout Additive gives the mortar fluid properties at a reduced water cement ratio. It also improves the bond and shrinkage compensation.
Uses:
Grouting of concrete masonry.
Cavity walls.
Around window and door frames.
Advantages:
Fluid at low w/c ratio.
Pre-blended-high quality control.
Minimum to no shrinkage.
Superior bonding properties.
Cohesive at high fluidity.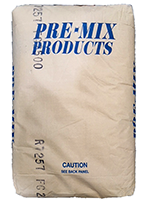 Additional Resources