SPEC MIX® Thin Veneer Bonder XP400 is a premium, pre-blended, polymer-modified thin-set mortar with water repellent properties that dramatically reduce the potential for efflorescence. It is specifically designed to bond masonry thin veneer units including natural stone and thin brick for interior and exterior installations. Available in standard gray, white, and special order colors.
Uses: SPEC MIX XP400 is engineered specifically to adhere thin cut natural and manufactured masonry veneer units. It utilizes performance additives to increase sag resistance, speed up installation and increase bond strength to reduce call backs.
Advantages:
Quality control - a consistent batch every time.
Excellent efflorescence reducing properties.
Exceptional anti-sag properties.
High shear bond strength.
High water repellent.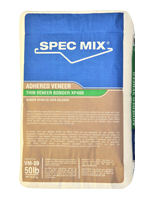 Additional Resources