PMP Anchor Cement is a preblended, non-shrink, hydraulic cement which expands as it sets, locking itself in place. It sets hard in 15-30 minutes and is stronger than concrete in 24 hours. Controlling the amount of water allows the product to be either poured or packed. PMP Anchor Cement dries to a natural grey concrete color.
Uses:
Anchor bolts and railings.
Secures posts, poles, pipes, ornamental iron, columns, rebar and signs.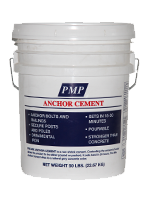 Additional Resources